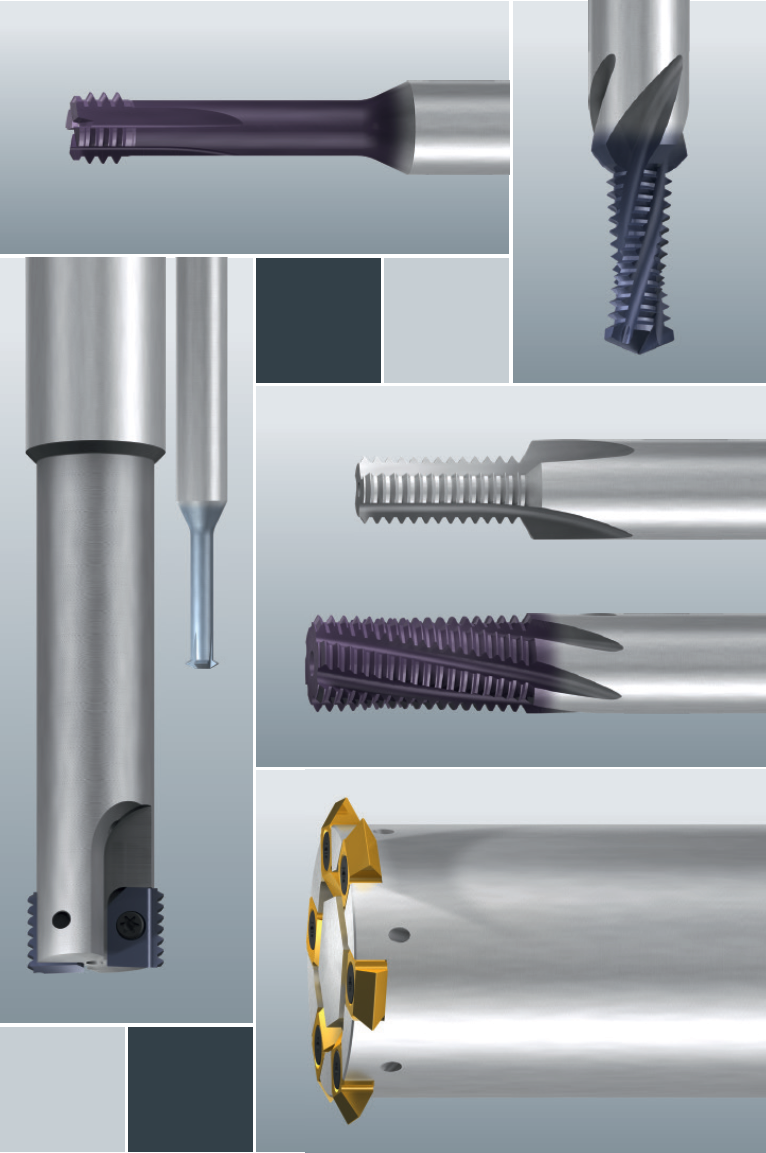 The increasing use of CNC technology has created the basic conditions for the most future-oriented process for internal and external thread production.
In a large number of cases, thread milling is a very useful alternative to thread cutting or cold forming of threads. It offers the following advantages:
Thread production almost independent of size and tolerance.
One tool only for both right- and left-hand threads.
No trouble with chips, because only small milling chips are produced.
No axial miscutting (overcut first threads) of threads.
Highly economic cycle times due to high cutting speeds and feeds.
Very low cutting pressure for the machining of thin-walled workpieces.
With a BGF-type thread milling cutter, several machining operations can be realised with just one tool.
The EMUGE thread milling cutter programme includes
Tools of solid carbide and HSS materials
Tools with internal coolant-lubricant supply
Tools with high-efficiency hard surface coatings
With these performance characteristics, it covers an extremely broad range of work cases.
The thread milling cutters of our Gigant series are circular thread milling cutters with exchangeable thread inserts for the economically efficient production of large and deep internal and external threads on modern CNC machines.
MoSys is a counterbore and stepped-bore system for free combination which makes a large number of ­machining tasks, like drilling, countersinking, ­counterboring and threading in one clamping process possible. We will be happy to support you in the selection of tools and in programming work. Please contact our service technicians.
EMUGE extends the giant thread mill series with a modular design in which up to three circular thread milling bodies interconnected and so depending on the application can lead to time savings in processing . Fitted with internal coolant supply milling bodies Gigant-IC Modular Sprinter can be used in many materials .