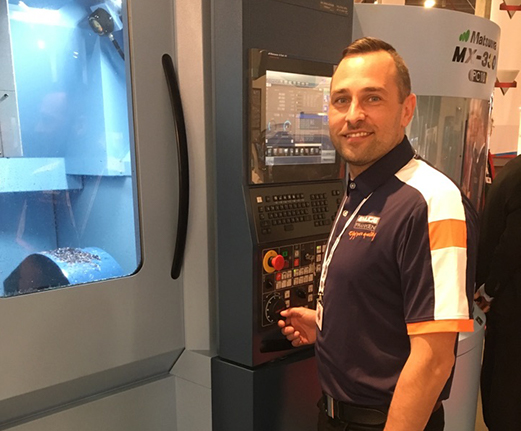 EMUGE-FRANKEN offers You free of charge help to find new ways to optimize your cutting process. Our technicians/programmers suggests and simulates new programs to find the most cost efficient and safe way for your cutting application.
Optimize your production and cutting tool process with the help from EMUGE-FRANKEN
EMUGE-FRANKEN´s programmers/technicians use and have the knowledge from the leading suppliers of CNC program on the market. If your company don´t have time or the excellence knowledge, EMUGE-FRANKEN AB can help you as a cooperator to optimize your cutting tool process.
Possible problems at the customer:
The customer has an application that they can´t program by themselves on the machine, due to limitations or difficulties in the CNC system at the machine.
The customer has no CNC systems and thus no opportunity to create applications by themselves.
The customer is not able to meet the targets for the efficient production time per unit.
The customer needs to reduce the cost of each unit produced.
Why choose Open Mind as CNC program from EMUGE-FRANKEN AB: 
What you win to use Open Mind is the benefit of collision control for our program, this gives us the secure of programing without any problem.
The point generation in Open Mind are generally significantly better than other CAM systems on the market, the difference is the way the machine running coordinates, which allows the surface becomes finer and the machine can hold its feed & speed thanks to the postprocessor.
Open Mind have the best program strategies on the market for – 2D, 3D and 5-axis.
Open Mind is one of the best programs for programing circular segment End mills, which gives the user the possibility to save a lot of time in the cutting process.
Why shall customers choose EMUGE-FRANKEN as program partner?
Through the CNC program EMUGE-FRANKEN use and control the customer will experience an efficiency and optimization time on his cutting. All programming is done in agreement with the customer and towards set goals.
The customer will also have a longer tool life, resulting in a positive effect on the overall cost of processing and, of course, the cost of the final product.
The customer gets a cutting partner that both can make the programming and deliver high quality cutting tools.
Contact us for more information about the programming assistance service.